Graham Collins – New York
ARTIST PROFILE 
Graham Collins (b. 1980, Washington, USA), received his BFA from The Corcoran School of Art and an MFA from Bard College. Collins' artwork routinely incorporates a wide range of disciplines, including painting, sculpture, ceramics, woodworking, and architectural intervention. Collins currently lives and works in Brooklyn, USA.
The tinted monochromes combine the artist's appreciation of normative craft forms, specifically woodworking and DIY window tinting, with the canon of abstraction. Collins forces a harmony from the disparate cultural and aesthetic values associated with these different entities. Taking a cue from Frank Stella's dictum that "what you see is what you see", the works function at first glance as minimalist forms, yet hold a bevy of specific information right on the surface. The weather-stained wood, the torn window tinting, the color, the shape of the stretcher, the heavy, sharp glass, a section of wall–all serve as a collection of marks that signify different histories. While pocked and torn in places, these planes still shimmer and act as a kind of mirror reflecting their surrounding environment. On closer inspection the viewer's eyes focus back and forth on the surfaces of the glass, the canvas, the tinting – revealing what we ourselves look like when viewing an artwork. 
More Information: http://artdaily.com/news/63461/Sam-Moyer–Mika-Tajima-and-Graham-Collins-at-Halsey-McKay-Gallery#.Um63qpEg_ns[/url]
Copyright © artdaily.org
Link to Interview with Graham Collins
"32-year-old Brooklyn-based sculptor Graham Collins offered an unexpectedly alluring yet amusing view of the contemporary art object as both concept and decoration in his exhibition "Civic" at The Journal Gallery, which closed last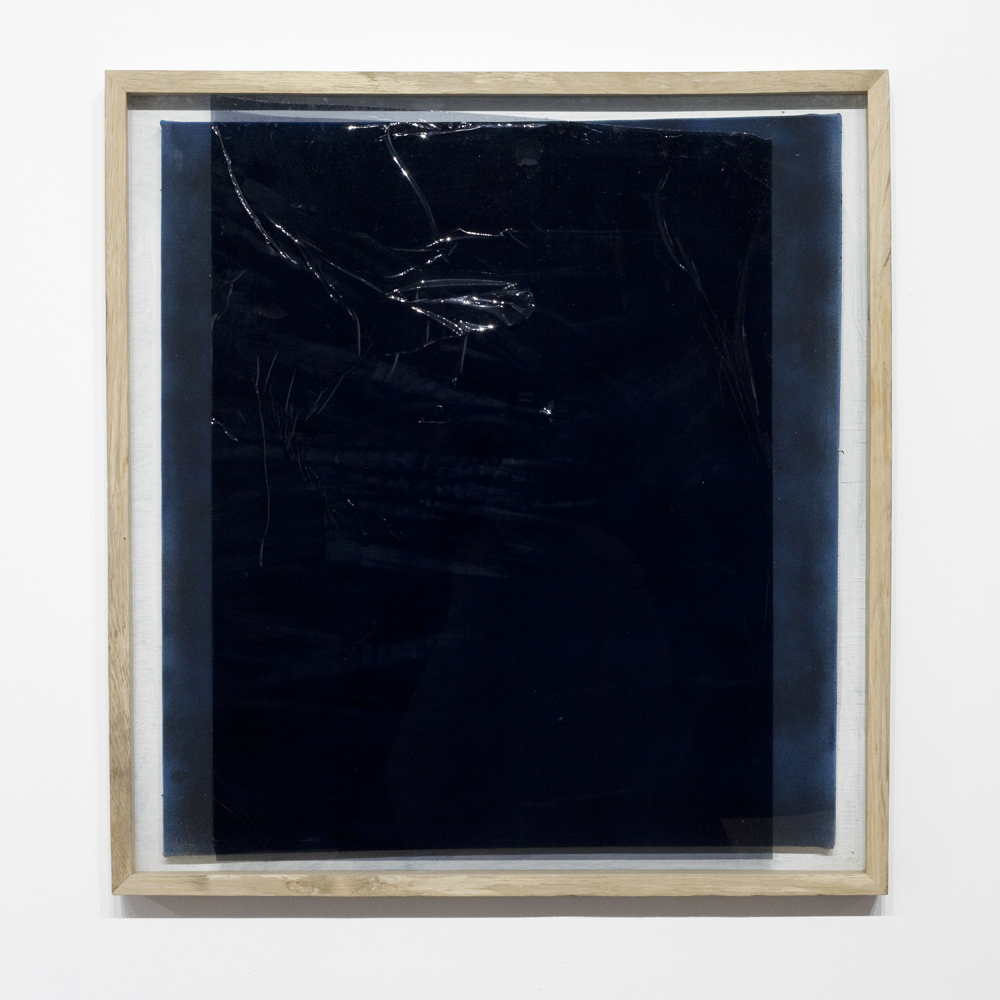 weekend. Consisting of six reductive paintings (which are more objects than paintings) and two sculptures (which consist primarily of said paintings), the show nevertheless appertained to Sol Lewitt and Damien Hirst as readily as Crate & Barrel and AutoZone.Whitewall caught up with Graham to speak with him about his work.
Link to artis page at coopercolegallery – and at:  halseymckay
Show at The Journal – Graham Collins