Alberto Tadiello – Sandpaper works
Text from interview – Sonic Sculptures From A Construction Worker Turned Artist
"Alberto is a bit of an enigma. "I don't have a design background–not at all," he tells Co.Design. "I have a background as a mountain climber and as a construction worker." Despite the subtle subterfuge surrounding his creative pedigree, he has spent the last decade building up an impressive body of work, including numerous intricate solo and group exhibitions, residencies, and awards."
His process varies according to the particular assignment at hand, taking on new depth depending on what component parts he finds–which he describes as a "bit of this, bit of that"–and when inspiration strikes. "There are works that start with notes, researches, abstract ideas, concepts, and so on, and I go searching for the 'suitable materials' only later, consequently. Sometimes everything works exactly the other way around. I find the materials, and then I make a project turn around them, developing a concept."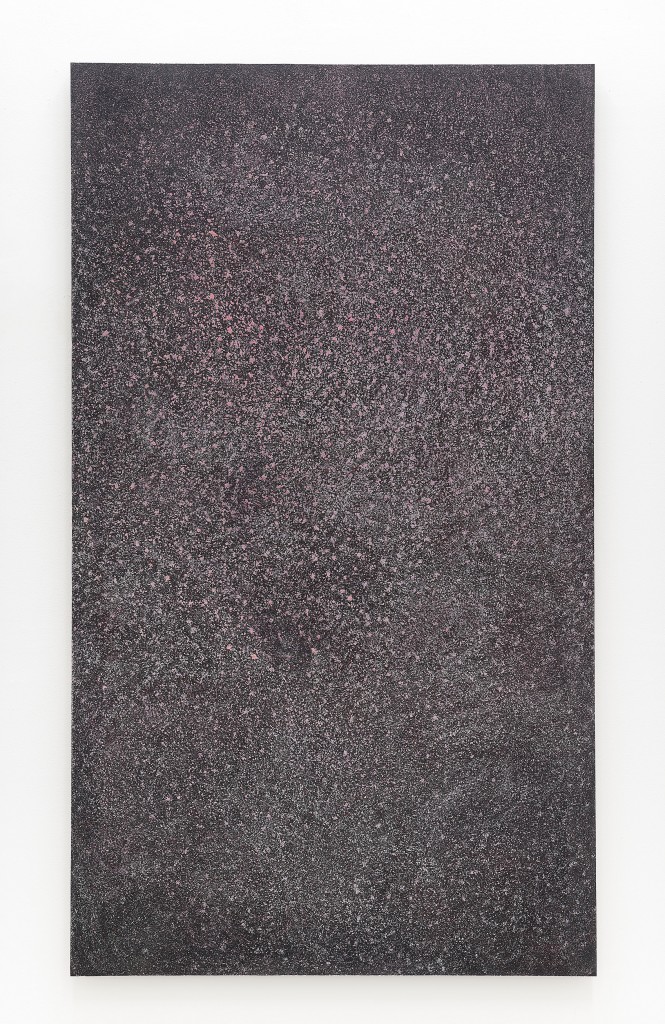 AT/P 3160/U, Alberto Tadiello
Pale, 2014
cere, colle, spray, saponi e cosmetici su carta vetrata montata su MDF / waxes, glues, sprays, soaps and cosmetics on sandpaper mounted on MDF
178 x 103 x 4 cm (70 1/8″ x 40 1/2″ x 1 5/8″)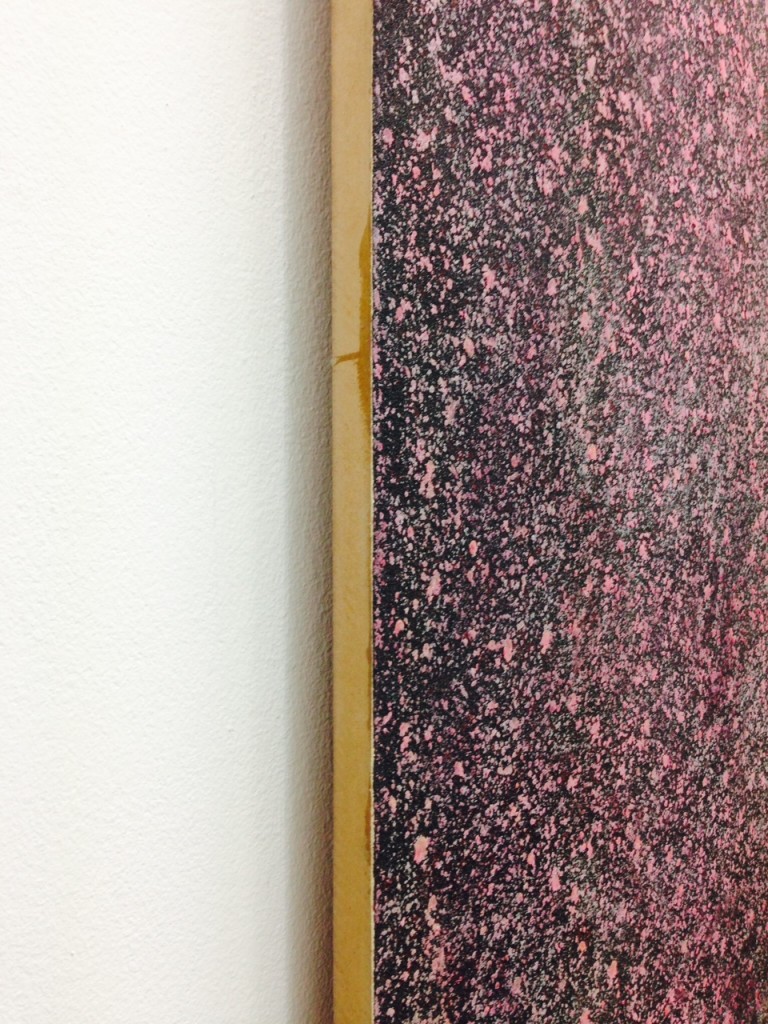 Link to Interview with Alberto Tadiello
For his third solo show at T293, Alberto Tadiello presents a series of wall works – Pale – and a sound installation – Device.
Pale consists of five framed sandpapers treated with waxes, glues, sprays and cosmetics.
Breaths caught in their moment of full bloom. Of vitality. Of sanguine vigour.
A feverish unfolding of reds, magentas, carmines, blacks, crimsons, violets, plums, greys, burgundies, pinks, whites, browns. Some golden dust.
They show all the bewilderment of fullness. The continuous crossing of a full and intense glimmer. Facing the Pale is like dipping one's head in a blooming cherry tree.
The moment of flowering, however, does not settle. It slips away. It is already running ahead, crushed by the concentration of a time. A voracious nostalgia raises then. Muscular. It instils a doubt into the voluptuousness of the cherry tree. It affects the vertigo of a full gaze. It stuns the beam.
Just barely. With harsh grace. Elegant harbinger of an irreparable withering. Of dust and coming falls.
Device is a long whistle produced by an automatic, computer-generated feedback by maximizing the incoming and outgoing recording volumes of Quick Time Player and physically modulating by hand the output sound from the loudspeakers of the computer itself.
An insisted hiss cuts the space horizontally, a grainy constraint swells one's temples, scraping the cavities of one's head.
The exhibition arises in a vertical anxiety. It soars far beyond the Pale, experiencing the apparent contradiction of a longitudinal perforation and its eternal take-off.
It scratches the hands and tears the listening.
Abrasive, it erodes.
It lifts its head up and looks at the Ama Dablam, stretching the thoughts to its six thousand metres.
AMADABLAM is the definition of five sandpapers and a whistle.
All around, the void.
Daniela Zangrando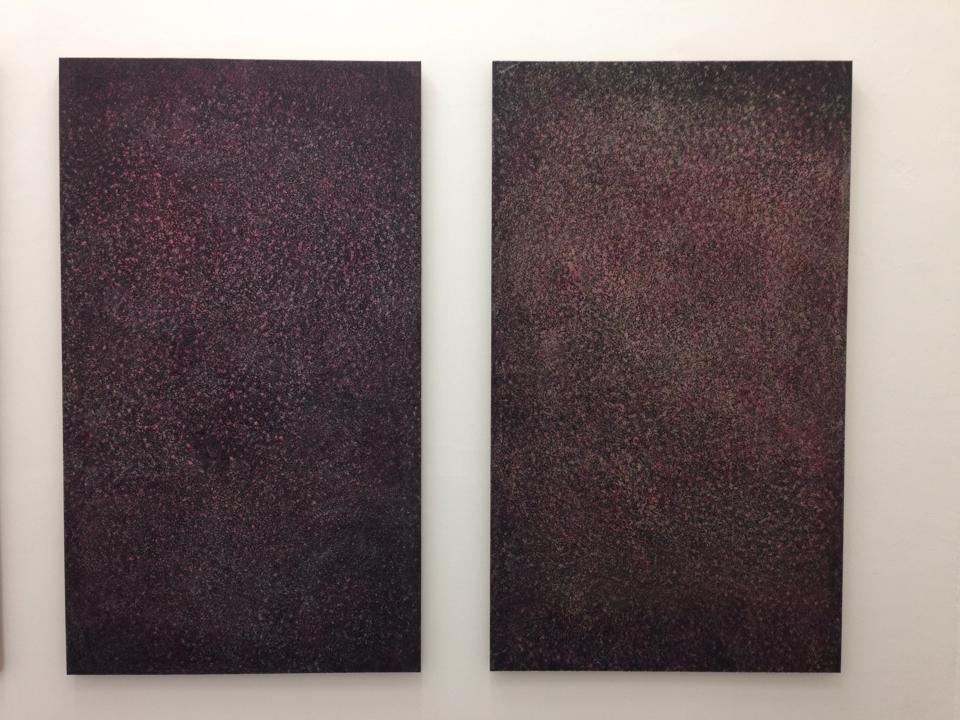 Alberto Tadiello 'AMADABLAM' May 23 – June 30 2014 – T293, Rome from ATPdiary on Vimeo.
Born 1983, Montecchio Maggiore (VI), Italy
Solo Exhibitions
2014 'AMADABLAM', T293, Rome (upcoming)
2012 'High Gospel', Museo d'arte contemporanea Villa Croce, Genova
2012 'HYPER', Monotono Contemporary Art, Vicenza
2011 'LK100A', Castello Malaspina di Fosdinovo, Massa-Carrara
2010 'Adunchi', T293, Naples
2010 Art | 41 | Basel, Art Public, presented by T293, Basel
2010 'Variable Intensity Rain Gradient Aloft', Newman Popiashvili Gallery, New York
2009 'Perarolo09', Perarolo di Cadore
2009 '7. Premio Furla 2009', Querini Stampalia Foundation, Venice
2008 'Trieste Contemporanea', Studio Tommaseo, Trieste
2008 'Erasable Programmable Read Only Memory', T293, Naples
2008 'VIR. Viafarini-in-residence', Viafarini, Milan
2005 'RMN Sound Event', Galleria A+A, Venice