Q&A – Questions for Thomas Øvlisen
Q: Tell me about your background? 
I grew up in a conservative high brow cultural family. Ran in the other direction as a teen. Ended up in art school. And stuck with it.
Q: Do you remember the first artwork you made, and can you tell me about it. Can we see it?
My first conscious art work was made during College in my first drawing class taught by Brice Hobbs. I did all sorts of things growing up but never considered it art or felt like an artist doing it. He was an awesome teacher. He broke down all the preconceived idiotic ideas I had about art and artists. Off course other idiotic ideas were built up, but that is art school for you, right?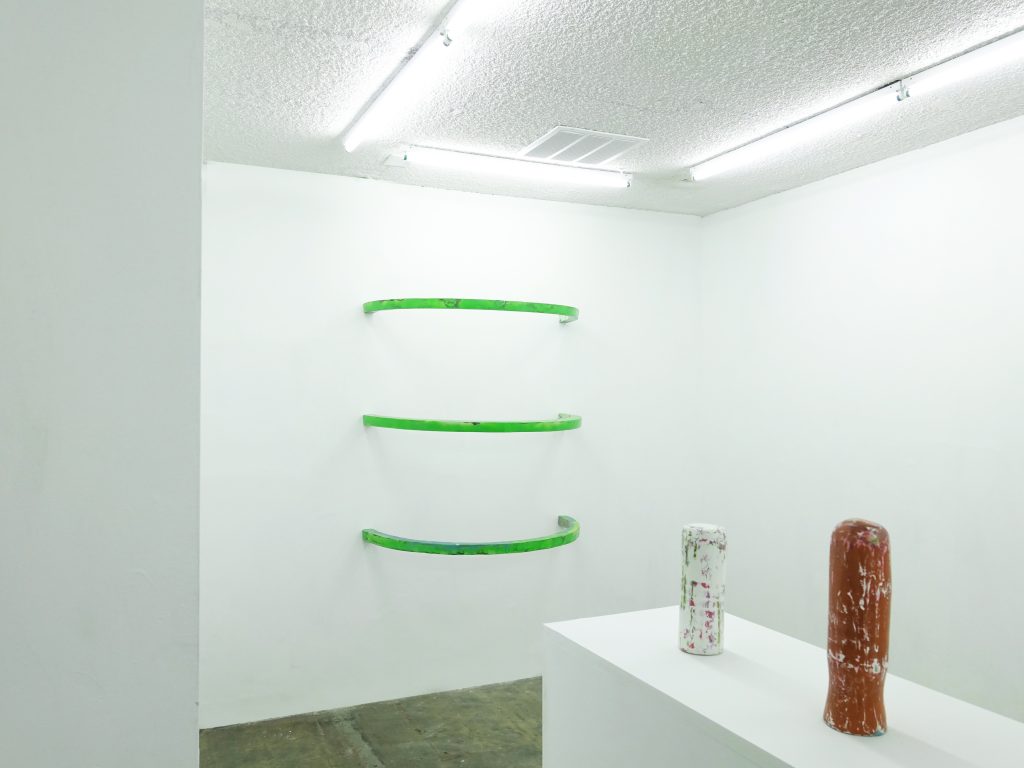 Q: Was there a particular moment or event where you decided to become an artist?
That first drawing class.
Q: What influences you?
Well I go by gut feeling! Informed gut feeling. And everything can influence me. I love seeing art works that blow my mind in the sense that I go – how did they come up with that! Like Michael Mahalchick or Sara Greenberger Raferty. I am inspired by the horizon line. The pyramids. Butt Johnson and my life. I use what is right in front of me. Like all artists before me. I guess.
Q: The Idea/concept surrounding your work, can you tell us more?
I have always really liked making stuff and building things. And I get a great pleasure out of making stuff that nurture my imagination. Putting different shapes together to form an abstract unintelligible but some what recognisable form. Turning pete plastic bottles into small sculptures. I guess I hand craft objects with industrial materials through an industrial process.
Q: How and why did you choose to work with Foam, Lacquer and sanding it down?
Since I was a kid I dreamt of making my own surf boards and now I am.
Q: Can you tell me more about the process in your works?
The other day I remembered that my sisters super cool childhood boyfriend fixed his Kreidler moped in my parents basement when I was 12! He used Bondo and metallic purple auto lacquer to fix the gas tank. The exact same process I use now and a color that is almost always my go to color. I never consciously based my work off of this memory. But there clearly is an interesting overlap between my childhood dreams/goals/heroes and what I ended up making.
Q: What is most important to you regarding your work, Process, Concept, Visual or something else? 
The weight or lack of it. My mother is a ceramist and made a worts and all version of a hoof fungi(a shape I have used). I asked her to put it on the wall but the clay was way to heavy. My work is light. It can protrude far from the wall and you can pick it up and feel it in the same way I used to check out skate boards in my friends back yard skate shop. Or like a carpenter testing out the grip of a hammer at a True Value.
Q: Can you tell me more about your routines and rituals in your daily practice?
It is really boring. I have 4 kids. I drop them off at school. Go to studio. Work. And then head home to pick them up and drive them to soccer, dance practice, horse back riding or the skate park. Obviously I work 24/7 up to a show like everybody else.

Q: Can you let us in on some of the future projects, works?
I am combining my experiences from the past years and making out door sculptures adding concrete to the mix.
Q: Any comments on the New York / LA Art Scene the last 2-3 years, and the Term: Zombie Formalism?
Part one, zombie formalism- 
Nobody likes flippers. And nobody wants to be flipped. Just like nobody likes big banking and everybody wants equality. Yet both still exist. The art world is big and there is room for everybody. I showed with Oscar Murillo in London in 2011 in a group show, Insurgencies, curated by Peter Lamb and Shane Bradford. It was an awesome show, and I am so proud to have been part of it. I bought the Murillo piece, a coffee table, because we needed a coffee table and it was awesome. How crazy is it to make a coffee table that is a painting and a sculpture and an installation that does not get caught up in design or craftsmanship. It was great. Then a dealer stepped in and wanted all his stuff and as a good colleague I let it go. I wanted him to have all the success he could have. I still do. I wish I had the coffee table. We still need one
Part two, NY/LA – 
I just showed in Los Angeles at Sade LA, a small but great artist run gallery in the former Night Gallery space. And loved it. It is a store front gallery in a tiny strip mall in Lincoln Heights and I couldn't wish for a better setting to exhibit art. In NY I show with Klaus Von Nichtssagend Gallery also an artist run space. I love them and their line up. We all get along. I love both cities and couldn't pick one over the other. I live in Denmark which makes LA really far away and puts NY right in the middle. But LA is only half way to Hong Kong from here.